Warning: Use of undefined constant overview_publication_item_catlinks - assumed 'overview_publication_item_catlinks' (this will throw an Error in a future version of PHP) in /home/akcrokn/public_html/zechariahmusic/cms/wp-content/themes/zechmusic/content-archive-publication.php on line 23

Warning: Use of undefined constant post_type - assumed 'post_type' (this will throw an Error in a future version of PHP) in /home/akcrokn/public_html/zechariahmusic/cms/wp-content/themes/zechmusic/content-archive-publication.php on line 24

Warning: Use of undefined constant object_type - assumed 'object_type' (this will throw an Error in a future version of PHP) in /home/akcrokn/public_html/zechariahmusic/cms/wp-content/themes/zechmusic/content-archive-publication.php on line 27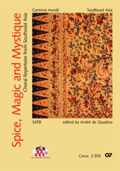 Title: Spice, Magic and Mystique
Published by: Singapore Symphonia Co. Ltd.
Available from: www.carus-verlag.com
In conjunction with the IFCM (International Federation for Choral Music) Carus is publishing the series Carmina mundi, which consists of traditional works from various regions of the world. Each region is represented by one volume for mixed-voice choir and one for equal voices. The editors are experts in the music in their respective fields and are thoroughly familiar with its characteristic features. These choral collections present the world's musical treasures, and encourage singing together to transcend beyond national frontiers.
Zechariah Toh's Impressions is one of the pieces found in Spice, Magic and Mystique.